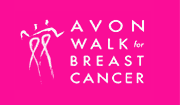 Thank you for visiting my web site, and thank you so much for supporting me as I trained for my Avon Walk for Breast Cancer in the Rocky Mountains.
Since my daughter, Debbie, and her husband, Chris, live at 9,200 feet in Colorado, our family...Tom, Linus (my 18-month-old grandson) Ellen, Larry and I...decided that we'd spend the week before the walk at their house to help us acclimate to the elevation and to vacation together. As you can imagine, we had a wonderful time. We were surrounded by pine trees and the temperature was in the 70's.
On June 28 and 29, 2008, my daughter-in-law, Ellen, and I walked 26 miles, a marathon, over two days at 9,000 feet. It was an interesting and rewarding experience for me. I can tell you that the pavement became very hard after all those miles, and it was a challenge to just keep walking! However, Larry and the rest of my family kept showing up here and there on the walk to cheer us on, and that was wonderful.
Ellen lost her mother to breast cancer on June 28, 1995, 13 years before this walk. We both walked in honor her mother and in the hope, and toward the goal, that a cure will be found to this terrible disease so no one else will have to suffer this kind of loss. Every three minutes, another woman in the United States is diagnosed with breast cancer. With the help of people like you, we're going to do everything we can to change that statistic. Your support means a lot to me.
I again invite you to explore my site and see some of the art, as well as the DVD, I created as I went through treatment and recovery. Click on the link below to see the pictures from the walk.
Thank you again for joining me in this fight against this deadly disease.
Bonnie J. Reynolds